ISO/TS 16949 is a worldwide automotive standard. The standard was developed to eliminate the need for automotive suppliers to register their quality management systems to multiple standards required by the international auto companies. Registration to ISO/TS 16949 is a key to securing global automotive business.

What is ISO/TS 16949?
ISO/TS 16949 is an automotive quality system technical specification based on ISO 9001, AVSQ (Italian), EAQF (French), QS-9000 (U.S.) and VDA (German) automotive standards. This standard, along with customer-specific requirements defines quality system requirements for use in the automotive supply chain around the world.

Benefits of Registration to ISO/TS 16949:
-Improved product and process quality.
-Additional confidence for global sourcing.
-Provides a common quality system approach in the supply chain for suppliers/subcontractors.
-Reduces the need for multiple audits and registrations.
-Common language to improve understanding of quality requirements.



ISO
ISO is a non-governmental organization that forms a bridge between the public and private sectors. On the one hand, many of its member institutes are part of the governmental structure of their countries, or are mandated by their government.
more info
Iskandar Malaysia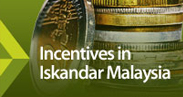 Iskandar Malaysia aims to be a sustainable region of international standard. The beacon of new growth, Iskandar Malaysia will spur economic developments that actuate Malaysia's global potential. Recognising the need for sustainable development, social and environmental issues features heavily on its agenda.
more info