What is MS 1500?
MS 1500 is a Malaysia food quality and safety system to prescribe practical guidelines for the food industry on the preparation and handling of halal food including nutrient supplements. It also serve as a basic requirments for food product and food trade or business in Malaysia.



•Title: "Halal Food-Production, Preparation, Handling and Storage-General Guidelines"

•This standard lays out:

Ø Comprehensive requirements according to Shariah law

Ø Requirements of food manufacturing and food servicing chain from processing to handling, distribution, storage, display, servings, packaging and labeling

Ø Requirements of aesthetic aspects-hygiene, sanitation and food safety



ISO
ISO is a non-governmental organization that forms a bridge between the public and private sectors. On the one hand, many of its member institutes are part of the governmental structure of their countries, or are mandated by their government.
more info
Iskandar Malaysia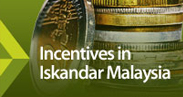 Iskandar Malaysia aims to be a sustainable region of international standard. The beacon of new growth, Iskandar Malaysia will spur economic developments that actuate Malaysia's global potential. Recognising the need for sustainable development, social and environmental issues features heavily on its agenda.
more info